VArtisans is a team of artists/programmers/cinematographers brought together to explore new ways of storytelling in virtual reality.
Led by director and VFX Supervisor Mark Lambert, VArtisans is dedicated to helping create new forms of storytelling in the VR medium.   We are currently in production on several national and international 360 video projects as well as multiple art and experimental pieces.  With each new project we are exploring new uses, innovating new techniques and concepting new ways to bring storytelling to this immersive art form.
We see a huge audience potential in the rising VR & AR market and 360 video is the beginning wave. Since Google and Facebook added 360 support there have been millions of people introduced to this media form.
We are also keeping an eye on the rise of Augmented/Mixed Reality.   We look forward to exploring opportunities in this space such as NASA's upcoming Destination: Mars AR experience and hope one day to develop similar projects for more "Earth based" locations.
The technology, the language and the experience will be evolving rapidly and VArtisans is excited to explore this world in it's earliest stages.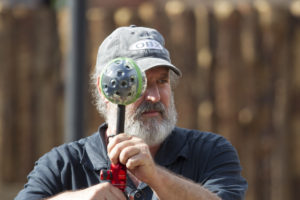 Mark Lambert, the company's founder, has been a VFX/DFX/CG Supervisor on multiple tentpole feature films as well as a director, editor and software developer.  From pioneering digital humans to heading up the team that created Harry Potter's first Quidditch field, he has been at the leading edge of visual effects technology.
While adept at software and technology issues, Mark has always viewed that as a "means to an end" to be an artist and storyteller.  Besides Harry Potter and the Sorcerer's Stone, he creatively led visual development groups of up to 80 artists on films such as Polar Express and Narnia: The Lion, The Witch & The Wardrobe.  He also created whole FMV sequences for Square USA's Parasite Eve game and oversaw the title design for Men In Black 2, the lunar landscapes for HBOs Earth to the Moon, Kevin Bacon's transformation in Hollowman and even Stuart Little's clothes.  His kids were probably most impressed with his teams early work on bringing Ivan Ooze to life in Mighty Morphin Power Rangers The Movie.
Early in his career, Mark was a senior online editor on literally 1000s of commercials and several documentaries for clients such as National Geographic and Mercedes Benz .  During this time, he also wrote the graphics engine for a National Guard M1A1 tank simulator and developed the first commercial software interface to "Renderman", (a rendering platform from a small S.F. company called Pixar) and licensed this interface to Sony Pictures & Warner Brothers among others.
In the VR world, Mark developed software back in 1994 for Jaron Lanier's VPL Research, a pioneering VR firm.  He was shooting spherical images in 1998 and spherical video with mirror balls in 2008.
Since leaving LA, Mark has been a live action and animation director, a VFX supervisor for several TV series and a creative director.
Mark's full CV can be found at:  MarkLambertVFX.com
Dawn Yilmaz is a 3D Generalist and Technical Photographer (Still & Motion) with a love for computer science, fine art, and photography of all types.
Technology has always played a significant part of her life. From her first game system (a 1972 Magnavox Odyssey), to her first camera (which, she hacked to shoot higher shutter speeds for sports), she have always been a bit of a technophile.
With no shortage of pursuits, you can find her in the field, flying drones to shoot 3D footage in Monument Valley, wearing Google Glasses to explore Mesa Verde and collecting reference in interesting places around the world. This past year, she spent a month filming in the beautiful and exotic country Turkey.
Dawn holds a Bachelor of Applied Science (BASc) in 3D Computer Animation and is currently pursuing a Master of Science (MSBI) in Business Intelligence.
Danny Copeland is an experienced underwater VR DP and focused on content that aids in marine conservation areas.
Danny spent a year traveling the world as an OWUSS European Rolex Scholar and has filmed underwater in over 20 countries across all seven continents … from Indonesia to Antarctica.  Regardless of whether he's on a rebreather in the rivers of Canada or freediving in the warm waters of Maldives, Danny is happiest when spending time underwater.
In 2016, his Mobula Ray documentary was shown at the CITES Conference of Parties in Johannesburg to raise awareness and try to get the Mobula species on Appendix II.  Such a listing would be a huge step in protecting them from unsustainable international trade.  During the seven days prior to the vote, more than 350 delegates watched the film through VR headsets  … with some removing the headset with tears in their eyes as they remembered when these vulnerable rays were once seen in their own waters.
On October 3, 2016, all nine Mobula species were successfully listed with a staggering 85% majority.
David Ariew started his career in neuroscience at UVA, mapping the brain of the common fruit fly, but quickly realized his passion lay elsewhere. His background is in the border between the music and film industries, where he spent three years working on touring visuals for Dave Matthews Band.
David is highly skilled in both VFX and computer graphics.  Recent work includes the VFX for three feature films, and he has worked on numerous commercials, short films, and music videos. His passion lies in using CGI for surrealistic title sequences and music related pieces.